Discover a healthier you!
D'Oria Chiropractic Moved to 18 Bridge Street, Suite 1-B in Milford, NJ!
Celebrating 19 Years of Helping to Create a
Healthier Community
One Spine at a Time!
Convenient Hours
Sat. and Sun.: 10-1
Mon.,Wed., Fri.: 10-1
Mon. and Wed.: 4-7
The last appointments will be 15 minutes prior to closing times listed above please.
CORONAVIRUS UPDATE:
As of today, March 16, 2020, the office will remain open for regular walk-in hours. I ask that anyone who is either sick, expressing symptoms, or has had contact with someone who may have coronavirus, I hope you will please stay home and isolate.
Moving forward, I suggest you call and set up appointment. To maintain social distancing, you can call in and let me know you are waiting in your car in order to minimize contact in the waiting room (if you are concerned or have pre-existing conditions). While additional effort is made to keep the office sanitary and safe, if you have an underlying health condition and concerns about infection, please consider staying home. You can call the office and see if we can set up an after hours time to minimize exposure to other individuals as well.
If the ever evolving situation changes or worsens, I may switch to doing hours by appointment only. My cell phone number is on my voicemail if you need to reach me. (Please leave a message if I do not answer, and I will call you back ASAP.)
Please stay healthy and know that I am dedicated to helping keep this community healthy and safe.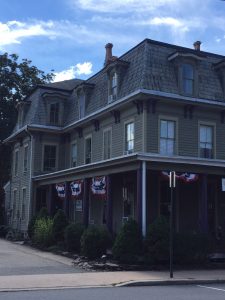 The entrance to my office will be on the left side of the building, facing the parking lot of the Milford Market. This is the only entrance to my office as the other doors open into other non-connected businesses. I share a parking lot with the Market. There is street parking available out front as well.
Tis the season for inclement weather. Please note that I may be unable to get into the office due to bad weather, running late, or may leave the office early because of it, so please feel free to call ahead. Sorry if I missed anyone! Be safe out there!
Affordable Chiropractic
I have tried over the years to keep my prices low. By removing cost as a barrier to chiropractic care, more individuals and families can keep their spines healthy.
Now it is possible to be able to afford chiropractic without breaking the bank or requiring insurance coverage. The long term health benefits of regular periodic chiropractic care may surprise you!
For those of you who do have health insurance, please check with your provider to see if I am in network. There are no guarantees of coverage as every plan is individual. Feel free to call the office if you have questions.
Gentle Family Care
My goal is to provide chiropractic adjustments that are gentle with the hope for maximum benefit.
I work on adults, seniors, children, and even babies. Please call if you have any questions.
I will be out of the office on the FOllowing Dates:
I will be closed for Easter Sunday on April 12, 2020. I will have regular hours before and after these dates.
If you need chiropractic care while I am away, please check your insurance company benefits book for a local provider.