Discover a healthier you!
D'Oria Chiropractic Moved to 18 Bridge Street, Suite 1-B in Milford, NJ!
Celebrating 19 Years of Helping to Create a
Healthier Community
One Spine at a Time!
Convenient Hours
Sat. and Sun.: 10-1
Mon.,Wed., Fri.: 10-1
Mon. and Wed.: 4-7
The last appointments will be 15 minutes prior to closing times listed above please.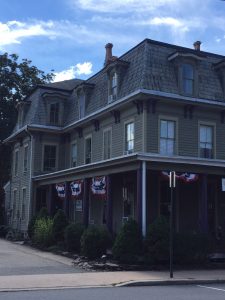 The entrance to my office will be on the left side of the building, facing the parking lot of the Milford Market. This is the only entrance to my office as the other doors open into other non-connected businesses.
Affordable Chiropractic
I have tried over the years to keep my prices low. By removing cost as a barrier to chiropractic care, more individuals and families can keep their spines healthy.
Now it is possible to be able to afford chiropractic without breaking the bank or requiring insurance coverage. The long term health benefits of regular periodic chiropractic care may surprise you!
For those of you who do have health insurance, my office policies may be changing at the start of the New Year.
Please feel free to call or check back soon. I will post something here when a decision has been made.
Gentle Family Care
My goal is to provide chiropractic adjustments that are gentle with the hope for maximum benefit.
I work on adults, seniors, children, and even babies. Please call if you have any questions.
I will be out of the office on the FOllowing Dates:
I will be closed for Christmas and New Years Day. I will have regular hours before and after these dates.
If you need chiropractic care while I am away, please check your insurance company benefits book for a local provider.